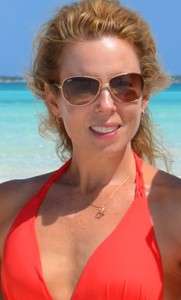 The desire to share the extraordinary beauty and energy of Exuma along with a lifelong commitment to health and wellness inspired Nina Marco to create Ultimate Exuma Retreats. She and her husband Mike have enjoyed both relaxing and working on the island for over 14 years; Nina is an interior designer who creates spectular living spaces for clients in the Bahamas and South Florida, and Mike is a developer of exclusive oceanfront properties at Casa del Mar on Great Exuma.
As a working professional and mother of twin teens, Nina understands the need for women to take time for themselves to balance their busy lives. Ultimate Exuma Retreats provides an easy, carefree solution by offering weekend getaways to the island, which is little more than an hour's flight from South Florida.

Over the many years we've been coming to Exuma, I've found it's my place where I can breathe and truly relax. Relaxation creates the space for learning, growing, healing and discovering, and for this I've found no better place on earth."
– NINA MARCO
What sets Ultimate Exuma Retreats apart from others is that guests' experiences are completely customized for each individual. Notes Nina, "Everyone's personal journey is different and we understand that. We provide options for guests to do as much or as little as they please, with a variety of workshops, exercise classes and adventurous excursions, along with opportunities to enjoy quiet relaxation and solitude."
Limited to only 18 participants, Ultimate Exuma Retreats guests are treated to maximum relaxation with luxurious accommodations, exquisite gourmet cuisine and superior service.